Vapur
MEET THE ANTI-BOTTLE

Vapur is the first flexible water bottle designed to fit in your pocket, purse or backpack. BPA FREE, these eco-friendly alternatives to traditional bulky water bottles simply fold, roll or flatten when empty.

Reusable. Foldable. Attachable. Identifiable. Freezable. Washable.

COOL.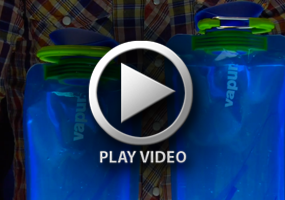 Check out the NewVapur Element
Element - Designed To Perform

The new Vapur® Element and the integrated SuperCap(TM) were designed from the ground-up to meet the performance needs of outdoor enthusiasts everywhere. Our patented flexible design is lighter and easier to hold than rigid bottles – and folds flat when empty to go virtually anywhere. Available in two high-capacity sizes (0.7L and 1.0L), the Vapur Element will keep you hydrated no matter the terrain. So, whether you're hiking, biking or running the trails, this foldable, reusable water bottle is ready for anything. Are you?